UCLA Film and Television Archive Project Report
Research on the Mary Pickford titles at the UCLA Film and Televison Archive (UCLA) began in the fall of 1997 and took 10 weeks to complete. The Los Angeles-based archive, the newest of the four major U.S. film archives, has a relatively small number of Pickford titles. Though most of Pickford's short and feature-length films at UCLA are either poor-quality 16mm safety prints or fragmented and deteriorating nitrate reels, the archive has acquired a handful of titles which are rare or the best of the extant material. Most important, UCLA has preserved these elements and made all but two accessible to the public. In addition, the archive actively pursues Pickford material for acquisition.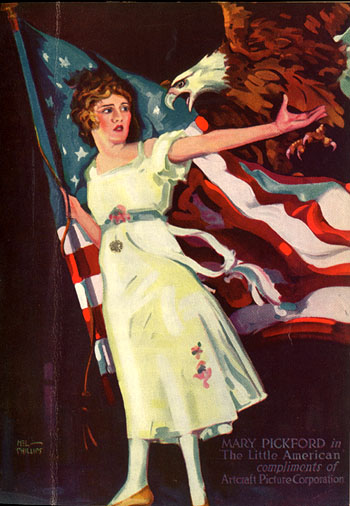 Ad for the WWI feature "The Little American" (1917).
(Motion Picture News, July 14, 1917)
A tinted nitrate print of a rare short called "A Manly Man" (1911) is my most important discovery at UCLA. The film was made during the actress's brief career at the Independent Motion Picture Company (IMP) in 1911. Only eleven of thirty-two Pickford's titles from this period are known to survive. UCLA's unique IMP short was reissued by Universal and under the title"His Gratitude." I identified the original release title, "A Manly Man," by comparing the story told through the intertitles with the synopses of Pickford IMP titles found in trade magazines. In this short film, she portrays a woman who cares for (and eventually marries) a white man who becomes ill while working in the Philipines.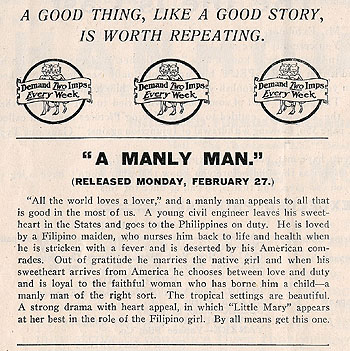 Advertisement for the 1911 IMP release "A Manly Man."
The actress played a number of non-caucausian roles (mostly Native Americans or Mexicans) during her years with the Biograph Company. During her feature career Pickford chose to play characters from different ethnic and racial backgrounds, including British, European (French, Italian, Irish, Dutch) and Asian (Japanese and Indian). At IMP, she played Spanish or Cuban characters in three productions. But Lola, her character in a "A Manly Man," is a Filipino woman of Spanish descent, as evidenced by her Spanish name. In addition, her Filipino lover is named Petro, and the Motion Picture World review of the movie refers to her as "a latin type." Unlike her other Cuban/Spanish roles ("Artful Kate" and "In Old Madrid," both at IMP), Lola is from an Eastern culture and is extremely poor. The Motion Picture World reviewer refers to her as a "semi-savage," and from a hand inspection of the nitrate print, Pickford's portrayal resembles her work in Native American roles at Biograph. It is also reminiscent of what we know of her character in the lost feature "Hearts Adrift" (1914) and her Inuit role in "Little Pal" (1915).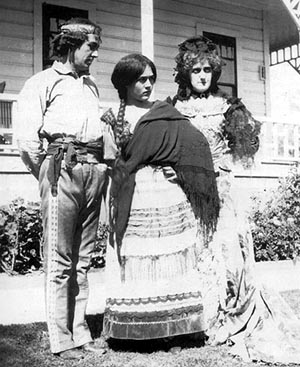 Henry B. Walthall, Mary Pickford, and Kate Bruce in "Ramona" (1910)

Like many Pickford characters, Lola is a heroine, rescuing her white husband from a knife attack by wrestling the weapon from her old lover. And when the caucausian fiancee of Lola's husband arrives in the Philipines the man does not abandon Lola, but happily stays with her. "A Manly Man" is an important film. It is one of the few examples of Pickford's work at IMP and continues her presence in racially diverse parts after leaving Biograph. And because it is similar to a number of her roles at the Biograph Company and in features, study of "A Manly Man" is vital to anyone researching Pickford's career. Unfortunately, UCLA does not have an access print (as of early 2005), so further research is impossible at this time.
Another title of interest in UCLA's collection is a promotional short for Pickord's first talking picture "Coquette" (1929). To publicize the film she held a nation wide popularity contest. Newspapers in twenty-five cities, including Atlanta, Buffalo, Dallas, and Washington, D.C. participated. The winners, all between the ages of 18-25 and each provided with a female chaperone, were taken by train (the "Mary Pickford Coquette Special") to Los Angeles. After their arrival on February 12, 1929, they toured Catalina Island and Mt. Lowe, visited United Artists, the set of "Coquette," and met Pickford and husband Douglas Fairbanks at their famous home Pickfair. The trip was documented in a film that survives today at the Library of Congress (LC) and UCLA. Several reels of outtakes and a version of the "Buffalo Edition" (with winner Catherine Roos) is at the LC. UCLA has a general version that most likely played in cities where the contest was not held.
Both archives received their "Coquette Promotional" material from the Pickford Collection. Several sequences of UCLA's 35mm nitrate negative are badly decomposed (most of this footage concerns Catalina Island). It is also missing a sequence with silent-film director Fred Niblo. The material was preserved in 1986 and a viewing print is available. In 2001, UCLA kindly sent a video copy of their print to the LC Motion Picture Conservation Center in Dayton, Ohio. George Willeman, LC's nitrate vault leader, then used it to make a detailed comparision of the two versions. Willeman helped identify unique footage and documented difference which were essential to my project and in making a preservation recommendation.
One of the most unique Pickford items at UCLA was footage discovered three years after my research ended. In 2000-2001, I was investigating Pickford material at the Library of Congress and had contacted Rob Stone, UCLA's Associate Curator, with some information. During our conversation he told me about a number of rolls of original nitrate negative he had recently found in a dumpster near the archive. They were behind-the-scenes footage from the set of "Little Annie Rooney" (1925) showing Pickford with both cast and crew. Stone's fortuitous find was even more remarkable in light of my recent discovery of a similiar roll of negative at the LC. During a research trip to the LC Motion Picture Conservation Center, I was given a can of unidentified footage from the Pickford Collection. Inside were two rolls of nitrate film, outtakes from King Vidor's "Street Scene" (1931) and seventy feet of Pickford and crew on the set of "Little Annie Rooney."
Stone sent me a video of UCLA's material for comparison with the footage at the LC. Though both were taken on the "Rooney" set, they are completely different. UCLA's footage is much longer, providing a more detailed look into a Pickford production. The material shows not only both cast and crew, but the set of Annie's tenement apartment and a glimpse of the musicians who created mood by playing for the actors. Unfortunately, the camera was cranked too slow and the images move very slowly. Still, it is the only footage from a Pickford set in which the actress herself appears. The archive has not preserved the nitrate (as of early 2003).UCLA also has unique material of Ernst Lubitsch on the set of "Rosita" (1923).
In addition, a handful of Mary Pickford feature titles at UCLA are the best of the surviving material. Two are films from 1917, "The Little American" and "Rebecca of Sunnybrook Farm." The others are "The Love Light" (Frances Marion, 1921),"Tess of the Storm Country," (1914) and "Secrets" (1933). UCLA's 1925 reissue b/w nitrate print of "The Little American" is from the DeMille Estate. It is over 500 feet longer than the original 1917 release version from the Pickford Collection found at the George Eastman House (GEH) and the LC. It is difficult to note all of the differences between the two versions without a shot-by-shot comparison, but UCLA's print icludes an additional scene and a number of intertitles have been removed or changed. UCLA has made a preservation negative of their version as well as a 35mm tinted print for screening purposes.
The archive also restored "Rebecca of Sunnybrook Farm" from nitrate material donated by Twentieth Century Fox and material on loan from the Pickford Collection. Both LC and GEH have 16mm prints from the Pickford Collecion, but UCLA has the best quality and most complete copy. A preservation negative was made and a restored 35mm tinted print is available.
In 1985, the Pickford Foundation donated nitrate material on "The Love Light." They also provided funding that covered part of the restoration of this title as well as "Rebecca of Sunnybrook Farm." Pickford Collection material can also be found at LC and GEH, copied from a nitrate print on loan to LC in 1956. . Both archives have 16mm material and GEH let UCLA borrow and copy their 16mm print to aid in the process. UCLA restored the title in 1987, including an extra reel that was identified as being from a French release version. A 35mm access print is avaialble.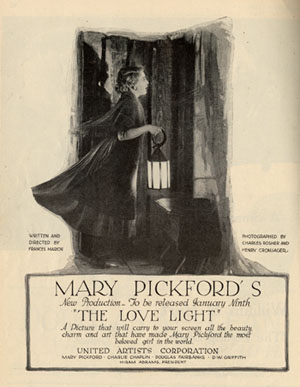 Advertisement for "The Love Light" (1921).
"Tess of the Storm Country" (1914) was the first Mary Pickford feature to become an international success and the film's fiery heroine was the most popular character the actress ever played. Pickford claimed to have loved Tess most.[1] The 1914 version of "Tess of the Storm Country" is primitive even for its time, but Pickford's performance is indelible. Tess is a young woman who lives in extreme poverty and lacks an opportunity for any formal education. She survives in the most difficult of circumstances, poaching fish in a squatter's village with her aging father. Their way of life is soon threatened by a wealthy and oppressive landowner. A lecherous neighbor stalks and attempts to rape her, and a lover rejects her after he believes she has had a child out of wedlock. It is all very melodramatic, but Pickford's Tess is not a woman who suffers in silence. She is an angry and often violent fighter who stands up for squatter's rights, physically fights her foes, breaks the law and even stands up against the church to do what she believes is right.
Though Pickford is most remembered for a handful of performances as children, she often played young woman like Tess with a rebellious nature. With the films success and the actress's preference for these types of roles, she remade "Tess of the Storm Country" in 1922. Sadly, only 16mm material and a few fragments of 35mm nitrate survive from the 1922 version. Until the early 1990s, it appeared that the original 1914 version had suffered the same fate. Then Paramount Pictures found a tinted 35mm nitrate print of a 1919 reissue of "Tess of the Storm Country" in their vaults. UCLA received the nitrate on loan and preserved the material, but agreed not to make a viewing print for several years. A preservation negative was made and the archive staff recorded the film's tinting before returning the nitrate to Paramount.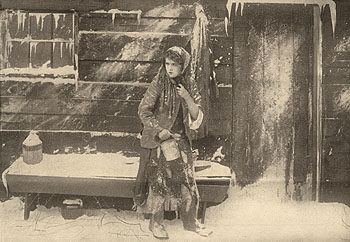 Mary Pickford as Tess in the 1914 version of "Tess of the Storm Country."
In the fall of 1997, Paramount allowed me to inspect the original nitrate (which was in the early to mid stages of decomposition) and to view their acetate print. In 2000, the studio loaned me a video copy to compare against "Tess" 16mm material at the LC. Without a doubt, Paramount's material is the best. There are differences in editing between the two surviving prints and both are missing scenes and intertitles found in the other. I strongly recommend a restoration of "Tess of the Storm Country" (1914) using UCLA and LC material. Paramount's nitrate is now deposited at UCLA and the original agreement for the archive not to make an access print has expired, making this a viable project.
In 1930, Mary Pickford shelved her unfinished production of "Forever Yours," directed by Marshall Neilan. Three years later she released "Secrets" (1933), the same story, this time directed by Frank Borzage. It was her fourth talking picture and the last film of her acting career. The LC received nitrate material of "Secrets" from Mary Pickford's estate after her death in May 1979. UCLA also has nitrate material of "Secrets," received in the Goldwyn Collection and preserved in 1985. An access print is available. The LC has not preserved its material, so there is no way (at this time) to verify completeness or compare their various elements with what survives at UCLA. The UCLA archive worked from a nitrate picture positive and a composite print. If material was missing, I believe they would have consulted the LC. At this time, it appears that UCLA has the best of the extant material and it is accessible for public viewing.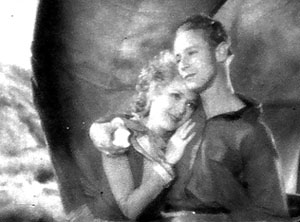 Pickford and Leslie Howard in a scene from "Secrets."
35mm nitrate print (Pickford Collection, 1981) [2]
UCLA has an extensive collection of newsreels. Due to her high profile, many include footage of Mary Pickford. Unfortunately, it is impossible to locate and catalog all of the actuality material that exists at UCLA or in film archives. The potential size makes it a project unto itself. Still, I think it is important to view and catalog a few titles when possible and acknowledge that more work (especially at UCLA) needs to be done in this area.
It has been over five years since I complete my investigation of Pickford materials at UCLA. In that time, the archive has continued to show interest in acquiring more of her work and has occassionally collaborated on projects with the Pickford Foundation. The Foundation owns an extensive private collection of Mary Pickford films. In 2001, they worked together on a restoration of "My Best Girl" (1927). Details on this project and others has been sought. The website will be updated as new information is acquired.
[1] Pickford played characters similar to Tess in films both before and after 1914. The films "Wilful Peggy" (1910), "Lena and the Geese" (1912), "The School Teacher and the Waif" (1912), "Rags (1915) and "M'liss" (1918) are just a few. Pickford stated in a 1913 interview that the character in"Wilful Peggy" (1910) was her favorite to date.
[2] Frame enlargement courtesy of the Library of Congress Motion Picture Conservation Center. Used by permission of The Mary Pickford Foundation.

UCLA Film and Television Archive Holdings